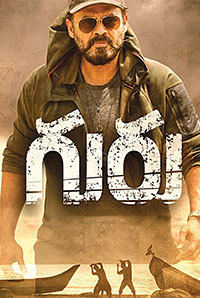 Dubbed film of 'Saala Kadoos,' 'GURU' starring Venkatesh and Rishika Singh.
Elli proposed for a movie and we were at PVR looking out for movies. GURU seemed to be promising film as it was sports drama. We watched it and had a good time.
Got to know about boxer, rishika singh through this film. Rishika Singh was amazing, she was natural and loud which was needed for the character.
The movie is about a coach who makes girl to realize her potential of being boxer champion. In most of the movies, I don't understand why coaches always have to be there till end, to make the team/ player win. Coach is meant to build the team and players who can play being themselves in the field. His role is must needed every time but, not even during the match where player is clueless about what to do and what not to do. This is something which I even discussed with Harimohan, he shared same views on movies where coaches be the centre of focus rather than players. Coach can't be there every time. Active participation of coach in the movie disappointed me.
I loved the background score. Santosh Narayan did an amazing work. Every song has his signature style on it. The selection of singers also clearly stated the act of Santosh Narayan work. He has his own style and it's lovely.